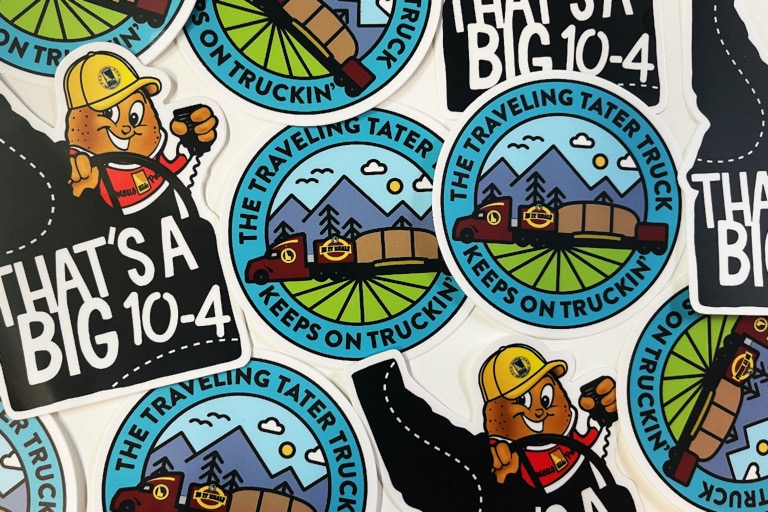 Creating a branded custom button is a great piece of marketing collateral that can be passed out internally or to your consumers to represent your brand. These buttons can be attached to shirts, backpacks, or jackets and worn out in public.
If you want your customer's to wear your branded material happily, consider designing an awesome custom t-shirt. These shirts can be worn around the house, in the yard, or even to the grocery store. Most consumers are eager to win or receive a free t-shirt, and this can be used to your advantage if you need extra participants in a special offer or promotion.
It is no secret that stickers are a tried and true successful marketing strategy. Offering branded stickers in your giveaways or using them on shipping boxes are just two ways your business can showcase its branding in a fun way.
To get started with custom stickers for your business, click here!
Wall graphics do not tend to make as frequent of showings as stickers do, but when used, they can draw in a ton of positive attention. These wall decals are perfect for adding a custom flare to your office or business space.
Flyers are some of the most cost-effective marketing materials out there. Creating a well-designed flyer featuring your brand and passing them out at events, in the office, or on the streets is a great way to share information and build brand awareness.
Consumers love branded magnets as they are extremely nostalgic and creative to use. One of the reasons why magnets are as successful as they are is because most people will come home and place it on their fridge and go on seeing your brand every day.
Custom packaging is a guaranteed way to draw the attention of your consumer. Consider different ways your brand can stand out from its competition and design accordingly.