We sent resident foodie, Linda Whittig, to the National Restaurant Association (NRA) show in Chicago last week to meet up with clients, new and old, and also to get a feel for what's trending in foodservice. Here's her rundown. 
Already home to a prominent food scene, Chicago took it to the next level when over 45,000 chefs, restauranteurs and foodservice pros converged on the McCormick Center. With over 2300 exhibitors I'd wager to say the 100th annual National Restaurant Association show was one of the biggest yet. This was my fourth trip and it was good to be back amongst the excitement again. Below are a few of my observations of what's hot in the world of foodservice.
THE HOT LIST FROM NRA 2019
• Automation – In a society where business is booming and labor is not as easy to find as it was a few years ago, there was a definite trend towards automation. Numerous booths showcased how machines could facilitate an easier life in the kitchen, from making and cutting various shapes of pasta to slicing and dicing vegetables. One of the most intriguing were machines that make the elongated rice ball that's used as a base for sushi. Taking it another (too far) step were machines that wrap individual pieces of sushi in clear plastic. Thank goodness that also trending is…
• Sustainability – With companies like Starbucks vowing to eliminate single-use plastic straws by 2020 it's no surprise that there was an excess of booths promoting paper straws – a trend many of the Chicago restaurants have already adopted. But the alternative packaging didn't stop there. Bamboo options were abundant to replace disposable plates and silverware. There was also a surge in plastics made from high-content, recycled materials to packaging that is completely compostable.
• Meat Substitutes – There's an abundance of food to sample at the NRA and some of the longest lines are typically found at booths serving hamburgers, hot dogs, and meaty sandwiches. That proved true this year too, but those long lines were wrapping around the stands at Beyond Meat and Impossible Burger. New to me was a seafood alternative, Good Catch, that was so spot on in texture and flavor, I would have been hard pressed to tell it wasn't real tuna. In fact, it's just not about meat substitutes but…
• Plant-Based Options – Several times I had to remind myself that I was at a foodservice show and not Expo West, the natural and organic consumer trade show. Everywhere I turned there was vegan cheese, alternative eggs and nondairy versions of butter, spreads and ice cream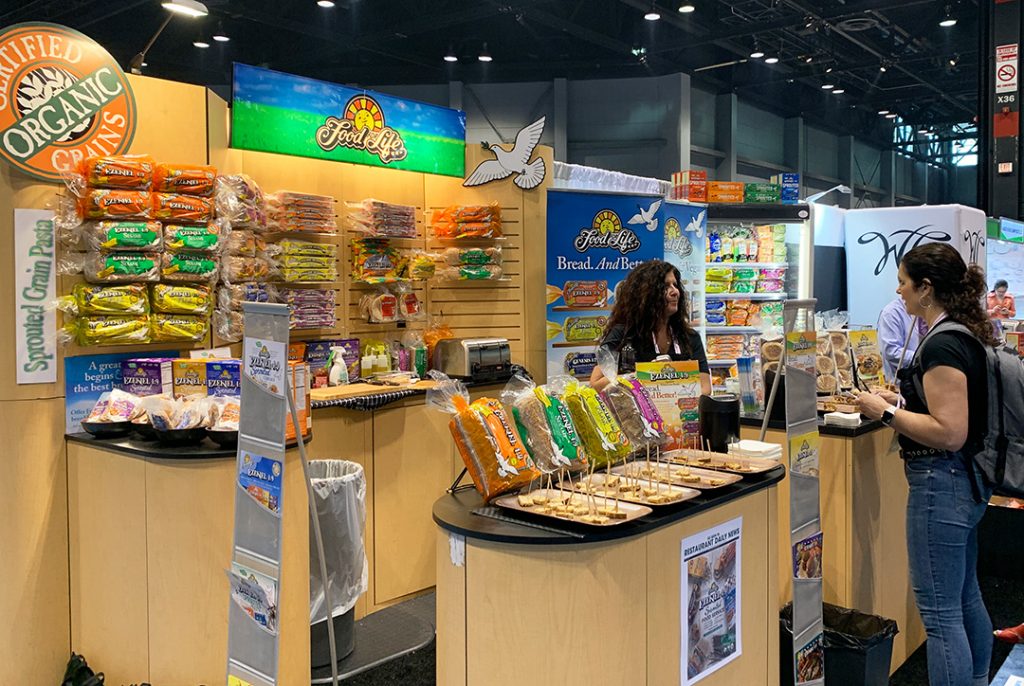 NOT SO ALTERNATIVE
Green carpet underfoot is a designation that you're in the section dedicated to organic and natural products. At one point I was on the border between this section and the conventional booths and the carpet wasn't the only designator between the two. It was elbow to elbow on the green carpet, with an air of excitement that just didn't exist on the adjacent section.
Another telltale sign that the tide is turning was the Pepsi booth, front and center in the entrance of the main exhibition hall. Their signature carbonated beverages were tucked away on the backside and instead they were featuring carbonated waters, juices, teas and kombucha.
I left NRA 2019 with a renewed optimism. If foodservice is wrapping its arms around things previously considered alternative, I'm thinking the alternative is well on their way to being mainstream.