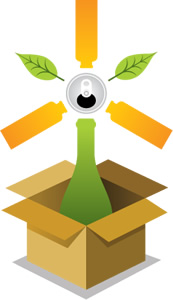 In an on-going effort to offer our clients up-to-date, relevant knowledge about packaging trends, we invited John Bernardo of Sustainable Innovations to hold a seminar at Foerstel last week on The Essentials of Sustainable Packaging. What an amazing and complex subject, as well as timely and important to our industry!
John's long history of consulting to assist businesses with their triple bottom line and sustainable operations, along with his association with the Sustainable Packaging Coalition (SPC), GreenBlue, and the Dupont Innovative Packaging Awards provides him with a strong knowledge base and true, hands-on experience.
At Foerstel, one of our requirements in package design development is to consider the sustainable potential for each project, and we encourage and assist our customers in doing the same. John's seminar was based on the SPC's 8-part definition of sustainable packaging, which provided a deeper understanding of how these criteria can be integrated into packaging development. This definition has been widely adopted throughout the packaging industry and provides a common vision,  framework and strategies that work towards more sustainable packaging.
A key point in the seminar was that trade-offs are an inherent part of pursuing sustainability. The SCP definition considers all facets of design and production, which results in the bar being set so high that today there is no such thing as a completely sustainable package. But there are eight steps, so the key is to choose one or two to focus on initially,  determining which aspects of Sustainable Packaging are most important to your company and its mission and vision. It's important to inform your suppliers of your interest and emphasis on Sustainable Packaging. The other key point that we found interesting is that committing to sustainable package design and production reduction typically saves money in the long run.
Many thanks to John for a truly fascinating and significant seminar, and thanks to Treasure Valley Packaging Group and our client, Kelly Kunzweiler of Good Cow, for attending the seminar with us!