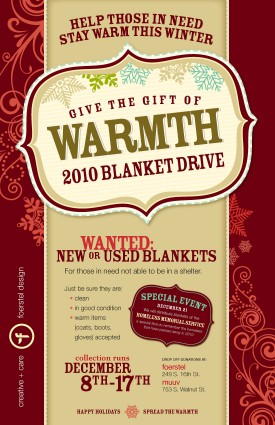 Last year we were very surprised by how many homeless people were out in the cold, and not able to fit into shelters or left outside between shelter openings.  Because our office is at the crossroads of those shelters, we see it every day and wish we could help them all. We realized that we all had unused, extra blankets at home that would help these people.
We also thought that if we had some to give then other people must have extras too!  We posted the request on facebook and the blankets came pouring in.  We were so thrilled! We were able to literally hand the blankets to people who were on the streets and so thankful to have them! An added bonus is the sustainable practices aspect: creating a way for the blankets to be reused rather than going to a landfill.
This year we are doing it again. We will be collecting the blankets and handing them out, with all extras going to Corpus Cristi House and Interfaith Sanctuary. We've also teamed up with MUUV Studio in east Boise as an additional blanket drop-off point.
We were also very honored to be asked that during this drive we set aside blankets to hand out at the Homeless Memorial Service which will be held the evening of December 21st to honor those homeless who passed away in 2010.
So, please bring your extra blankets from home that you are not using…you know you have some!