While we know what a rush Expo West can be, it's also a lot of stimulation. At the end of the day, it's easy to find yourself wiped out. Below are 5 tips we've learned through the years for not just surviving, but flourishing, at Expo West!
1. Put the Right Foot Forward
Sure… those kitten heels are super cute, as is that brand new pair of ankle boots but a trade show is a time to compromise fashion if there ever was one. It's also not the best occasion to break in a brand new pair of shoes. You're not going to have any problem getting in your 10,000 steps walking the floor at Expo West and while that floor is carpeted, it's just a thin layer between you and the hard concrete. There are lots of options for fashionable tennis shoes (for both men and women!) or smart-looking comfort dress shoes.
2. Keep Yourself Healthy
This year more than ever, health, and staying healthy is at the forefront of everyone's mind with the threat of the coronavirus. So now is not the time to let yourself get worn down or compromise your immune system.
• Stay well-hydrated, and while you're at it, mix a pouch of Emergen-C into all that water you're going to be drinking.
• Pack some Airborne, zinc lozenges or elderberry extract in case you feel a cold coming on.
• If sleeping in a hotel throws off your routine, bring earplugs, an eye mask or download a white noise app to help you get a good night's sleep.
• You'll undoubtedly be shaking a lot of hands. Make sure to wash your hands often and keep hand sanitizer in your bag.
3. Eat Meals
Yes, Expo West is a big grazing fest but don't undermine the importance of eating real meals. Fill up on fresh fruits, veggies, proteins, and whole grains for breakfast and dinner and then keep a reign on your sampling. Especially when it comes to products loaded with caffeine or sugar which will just lead to a crash and burn later in the day.
4. Make a Plan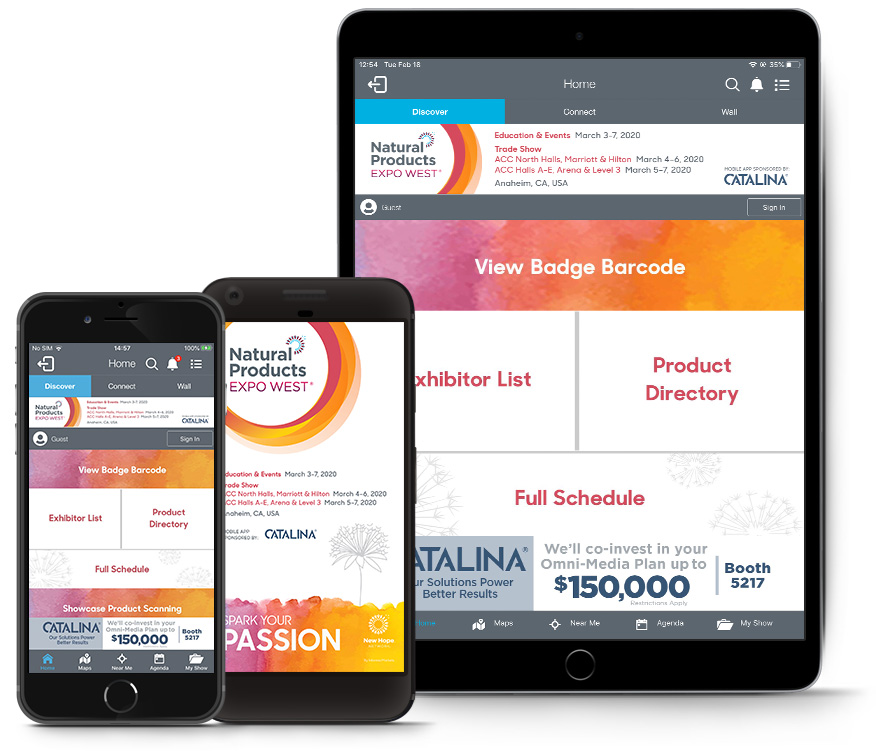 Download the event's mobile app ahead of time and work out a schedule of events you want to attend. Map out who you want to connect with and where to find them. If you're running social media from the event, know your strategy and the hashtags (#ExpoWest).
5. Bring Business Cards. Lots of Them.
Nothing kills the moxie of being on fire at a trade show faster than running out of business cards so make sure you are stocked up. Better to have too many than not enough.
Also, have a plan to manage all the business cards you receive. Write a few notes on the back of each to help jog your memory about the conversation. Or check out these apps to scan and organize. You'll be glad to have the reminders when shuffling through the stack once you're back home.
---
While a lot of these tips are common sense, it never hurts to have a little reminder as you're packing your suitcase. Here's to a fantastic Expo West! Hope to see you there!