With countless products out there, it's hard to capture a buyer's attention. Everyone's taste is different, but there are certain products that are so cleverly designed or unique that we can't help but want to take a closer look. Here we've listed seven of these products that don't just capture our attention, they make our heads spin. From a chandelier that casts an eerie shadow of a forest to a whimsical coffee table that looks as if it's being held up by balloons, these products will inspire you to think outside the box.
1. Chandelier Produces a Wild Forest of Trees


Forms in Nature is a chandelier, by artist Thyra Hilden and Pio Diaz, that casts a shadow of wild trees all around a room. The light source at the center illuminates the wild ball of gnarled "tree branches," creating over-sized shadows from the floor to the ceiling. Like something out of a fairy tale, a bare room gets transformed into one with oversized shadows, engulfing anyone inside. After an overwhelmingly positive reaction from the public, HildenDiaz has decided that the light sculpture will soon be a part of a crowd-funding campaign on Kickstarter.
2. Vuxic Smart Glasses
Sure, you already know a lot about Google Glass but how familiar are you with Vuzix? The Vuzix Smart Glasses M100 is the world's first enhanced "hands free" smartphone display. Worn in front of an eye and wrapped over the ear or head, the smart glasses work by interfacing with your Android smartphone or iPhone, over Bluetooth or Wi-Fi, projecting a full-color screen onto a tiny display that sits just in front of your eyeball. The device also comes equipped with a built-in HD camera that can record video and capture still images, as well as a compass, a GPS and an accelerometer. Just like Google Glass, this is one wearable device that will cause heads to turn.
3. Ostrich Pillow Lets You Nap Anywhere
Studio Banana Things is behind the awesomely innovative product Ostrich Pillow, your own personal place to take a power nap. Not really a pillow or a cushion, the cave-like environment lets you escape your daily worries and go to sleep in peace. A year after a successfully funded Kickstarter campaign, where they blew past their $70,000 goal and raised almost $200,000, Studio Banana Things released a new version, this time for kids, called Ostrich Pillow Junior. Handmade in Spain, the alien-like product is different than the original because it has a larger opening for the face, so both eyes and mouth are visible.
4. FallenTree Bench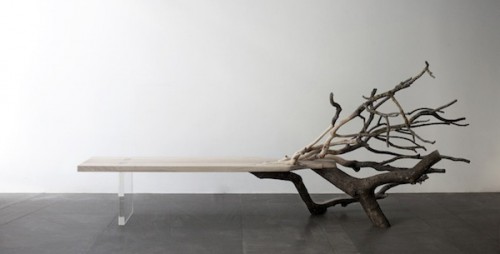 French designer Benjamin Graindorge showed FallenTree during Design Miami, a striking piece of furniture that's half bench, half tree. The beautiful piece of furniture, made of sculpted oak wood and a borosilicate glass leg, was made to reveal the wood's real DNA. The gorgeous sculpture is at a limited edition of eight pieces. They are all signed and numbered by the artist.
5. Dell XPS 12 Convertible Ultrabook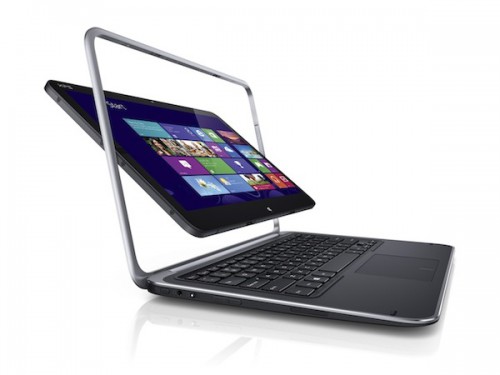 With an innovative flip-hinge design, the new XPS 12 Convertible Ultrabook with Touch Screen by Dell is a looker. The high-performance Ultrabook moves seamlessly between laptop and tablet mode with its elegant flip-hinge design. That means, whether you're casually perusing your favorite blogs or answering lengthy emails, you don't have to change devices. With an impressive battery life of up to nine and a half hours and fully loaded with Windows 8, you can go from work to play in a snap.
6. Glowing Jellyfish Lamps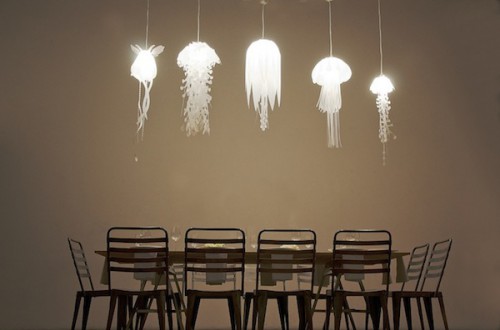 The Medusae Collection is a set of gorgeous lamps by Roxy Russell Design that resembles glowing jellyfish. Formed out of plastics, or materials that can be separated for recycling, the beautiful lamps are all white and turn a calm yellow color when lit from within. Inspired by the ocean, the designer wanted to bring to the surface the growing problem of plastic polluting our oceans but in an inspiring way. A percentage of the profits from the sale of each lamp is donated to The Ocean Conservancy.
7. Whimsical Coffee Table Features Balloons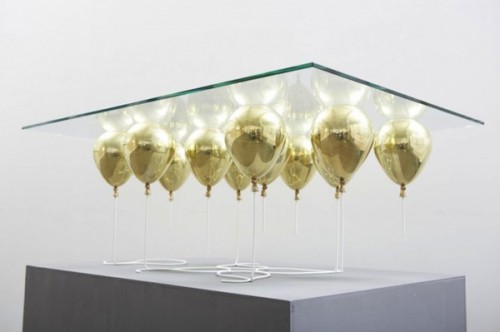 British designer Christopher Duffy has created this whimsical coffee table, called The Up Coffee Table Gold, that gives the illusion that the glass top is being suspended by a bunch of golden balloons. In actuality, more sturdy materials like metal resin composite and toughened steel rods were used to create this limited edition table that retails for about $9,300.
[via