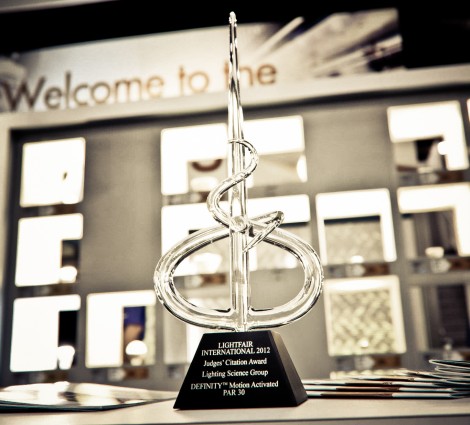 Our client, Lighting Science Group had quite an impressive week at this year's LIGHTFAIR International conference, taking home the top LIGHTFAIR International 2012 Judge's Citation Award for their Definity Motion Activated PAR 30 LED.
LIGHTFAIR International (LFI) is the world's largest annual architectural and commercial lighting trade show and conference. Over the years, LFI has established a record of joining the top Architecture, Design, Engineering and Lighting professionals with exhibitors from around the world.
If Lighting Science Group's award-winning PAR 30 were a car, it would have controls for everything and could probably parallel park itself. This amazing LED light is 80% more efficient than the 65-watt halogen lamp it replaces. It integrates both motion and ambient light sensing directly into the lamp, eliminating the need for separate controls. The light also has user configuration options built directly into the bulb that include time delay, dimming range, and motion and distance sensitivity. Like we said, controls for everything.
The conference also held the 2012 Next Generation Luminaires competition, sponsored by the U.S. Department of Energy, the Illuminating Engineering Society and the International Association of Lighting Designers. Lighting Science Group took home this award as well for their 4 inch 9.5-watt Glimpse LED downlight.


Lighting Science Group Chairman and CEO Jim Haworth expressed his excitement about receiving the awards and getting these innovative products in the hands of their customers.
"While other companies are struggling to develop performance LED lighting products, we are bringing to market some of the most advanced and exciting lighting products in the world. Demonstrating our speed to market, most of these new innovations that we are showing at LIGHTFAIR will be in the market by the end of this year or beginning of next year."
We at Foerstel are honored for the opportunity to work with such distinguished leaders of the LED industry and wish them all the best in their continued innovation of environmentally responsible lighting products. Congratulations!