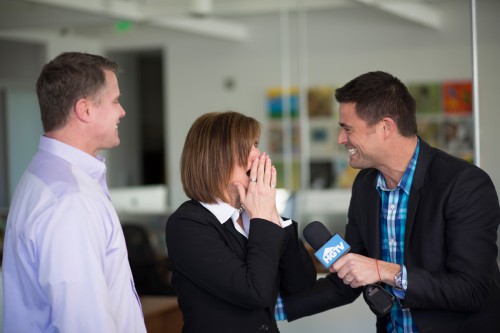 In case you missed it….our very own Laura was ambushed in the middle of an office-wide meeting on March 18th with a surprise announcement – she won the 2014 HGTV Dream Home Competition! It was a special meeting on Tuesday morning where Tom had requested every employee to be in attendance. In an email on March 13th, Tom informed us:
"In addition to our office meeting on Tuesday the 18th at 11 and then lunch, I have a new local client coming in to see the office, and meet everyone here around 10 am. He shouldn't be here too long, but I would like to have the office as tidied up as possible…"
The client actually was a no-show because he/she never existed, but Monday was spent tidying up only for what we later found out was the HGTV cameras. The crew covertly arranged with Tom the evening before to hide a couple of small cameras in the conference room in order to capture a nearly 360 degree reaction.
Within 10 minutes of our office production meeting, the conference room doors dramatically slid open and we were greeted by an entire crew of camera clad and boom mic bearers, all fronted by HGTV's John Gidding asking for Laura as they ambushed our meeting. When asked how she felt only minutes after the ambush, "I'm about to wet my pants." she exclaimed and "lunch is on me" all in classic Laura form!


To add to the excitement (if it was even possible), HGTV presented Laura and her husband Scott with a brand new SUV and a pile of cash to boot – a total prize package of over $2 million. Laura entered nearly every day for two months to get the custom Lake Tahoe house. Her winning entry was randomly drawn from over 72 million entries.


A HUGE congratulations to Laura and her family on her big win! You can witness her reaction to the surprise ambush during the HGTV Dream Home 2014 Giveaway Special that airs April 11th on HGTV at 5pm/4c and until then here's a little sneak peek we found online.