There's a wonderful, undulating beauty to Alain Delorme's series that initially tricks the viewer into thinking they're seeing flocks of starlings choreographing themselves against iridescent skies. On closer inspection though, rather than capturing mass avian movements the Parisian photographer has replaced them with a myriad of plastic bags.
Murmurations is a subtle examination of the humble plastic bag, seeing it as a symbol for our collective impact on this planet as we continually let them litter our surroundings. Rarely are the skies manipulated by man in a such a way, but here Alain manages to create this surreal, alternative reality, which is simultaneously both elegant and ominous.
The project took Alain a year and half to finish, with the photographer capturing plastic bags individually using a light box. For every swarm there's a different bag shot 200 times and then digitally duplicated, totaling an impressive 10,000 bags at least for each final photograph. It's all about texture and movement for Alain so he was keen to convey the transparency and slight differences in color in each bag.
Set against tonal skies with industrial structures like pylons, factories and wind turbines peeking out, it's clear the photographer is asking difficult questions and with the gradual awareness of what's really happening, his images become even more mesmerizing and impressive.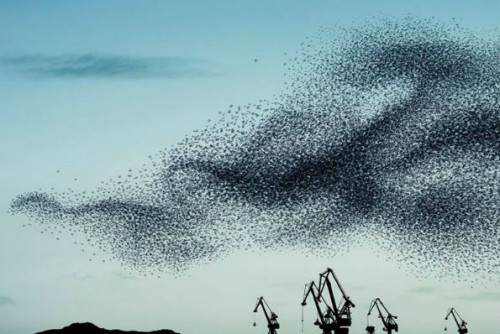 [via creative boom]