Rain might annoy a lot of people, but to some – it brings a peaceful kind of comfort and sense of intrigue. And for Irish artist Francis McCrory it offers a completely different perspective, forming the basis of a new series of oil paintings that look at the world through a rain-soaked car windshield.
Painted on canvas, his almost hyper-realistic artworks immediately bring to mind the smells and sounds of a car, sat in traffic on a rainy day. The noise of the windscreen wipers, the soothing and rhythmic sounds of rain hitting the car's body and the splashes all around us – there's real beauty in the mundane.
McCrory explains: "On rainy days, I like to observe the world through a different type of lens, a rainy car windshield. The patterns and captivating distortions the raindrops leave on the glass reveals beautiful, sometimes quite abstract formations. The magic part comes when I get to transform these beautiful compositions into oil paintings on canvas. It's not about creating a deadpan depiction of the actual, but finding that critical balance between seeing and feeling as the artist."
McCrory was born in 1983 and is one of Ireland's most exciting young artists. A Fine Arts Graduate from Belfast, he has received awards for 'Best Emerging Artist' from the Royal Ulster Academy and the University of Ulster. His style is unique, powerful, challenging. Discover more of McCrory's beautiful work on Facebook.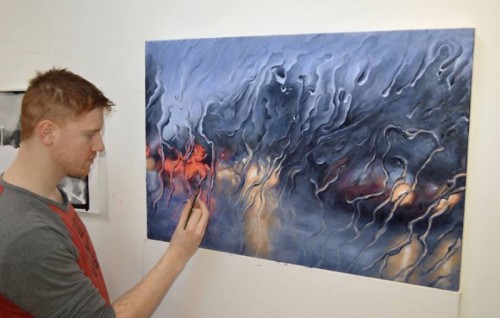 [via creative boom]