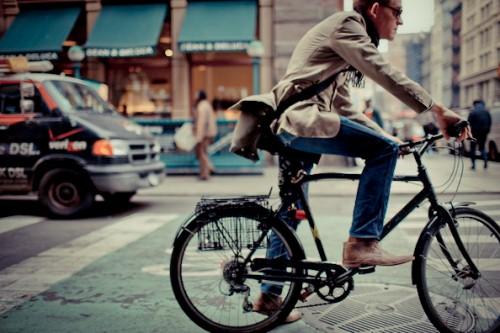 The month of May is upon us, which means it's time for the Ada County Highway District and Valley Regional Transit's annual 'May in Motion' campaign that encourages our community to use alternative modes of transportation. The ACHD also presents awards to local businesses that log the most alternative miles throughout the month, making for some friendly competition around Boise. Last year, we took home the Bronze award but are back with a vengeance to log even miles this time around. That being said, we've decided to share just a few of the amazing benefits that come with dusting off that old cruiser and pedaling through your daily commute.
1. Save Money
You are no longer buying as much fuel for the car, and we don't need to be reminded of rising gas prices.
Your car is not going to break down as often if you're not driving it as much.
Free parking for bikes!
2. Any Bike Will Do
You don't need a $5,000 bike to commute to work. Get a hybrid for a few hundred bucks. Or just drag that old bike out of your garage. That'll work.
3. A Practical Workout
If you're time crunched and juggling family, work and fitness, bike commuting is a way to kill two birds with one stone.
A flat, 5 mile commute will burn around 500 calories a day. Biking to work is an ideal way to get your daily physical activity without needing to set aside time solely for working out.
4. You Won't Miss Traffic
Daily commutes are often bogged down by traffic jams, ask yourself how much you enjoy sitting in bumper-to-bumper traffic twice a day.
Now, as a cyclist, would you enjoy that.
5. The Laws Are Catching Up
The increased popularity of biking across the country has caused states to pass laws accommodating the growing segment of bike commuters.
The 3-foot law has been passed in nearly half of the 50 states. Bicycle lanes are becoming more common. Even protected bike lanes with a buffer zone of some sort between the bike lane and vehicle traffic are starting to pop up.
Bottom line, bike commenting is becoming safer, and the more cyclists out there, the more drivers start to accept the need to share the road.
6. Protect Your Planet
Marinate on this: According to the U.S. Environmental Protection Agency, for every one mile pedaled rather than driven, nearly one pound of CO2 is saved.
7. Be A Positive Influence
If you let a coworker know that you're a bike commuter, they may be inspired to join you. If they join you then the planet gets double the protection, someone else gets in better shape and all of a sudden, your positive contribution to world wellness is even bigger.
8. Your Employer Can Help
In 2009, bicycle reimbursement was added among the qualified transportation fringe benefits allowed by the IRS.
9. Everyone's Doing It
Well, kind of. While less than 1 percent of Americans are primarily bike commuters, the number of Americans who commute to work by bike in 2008 increased 14 percent over 2007, 36 percent over 2005 and 43 percent over 2000 according to the U.S. Census Bureau.
10. It's Addictive
The hardest thing about forsaking your car for a bike is the first ride. It won't feel right. But the more you commute, the easier it gets. Before you know it, you'll be contemplating riding to work in the cold, the rain, the snow…anything to stay away from driving. It's addictive. Luckily, it's the good kind of addictive.