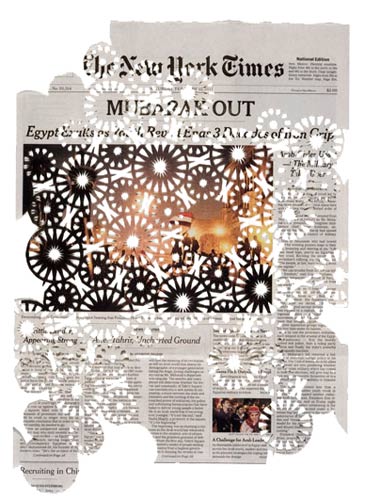 While some say the newspaper industry is dying, New Mexico-based artist, Donna Ruff finds beauty in the newsprint, creating intricate designs using newspapers as her canvas.
"Using unconventional techniques to make densely patterned drawings that refer to calligraphy and natural forms, she finds beauty and inspiration in sacred texts such as the Torah and the Qur'an, but also in the New York Times and the Manhattan phone book; in cathedrals, mosques and synagogues, but also in the warehouses of Chicago and Brooklyn."
In her series, titled 'Cut Paper', Ruff cuts fine, intricate patterns that reflect ornamental shapes typically found on decorative lace or doilies. "giving equal weight to both the positive and negative space of the pages".

[sources: Donna Ruff, TAXI]