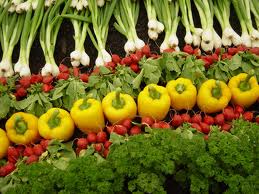 The upcoming 2012 Farm Bill budget cuts are threatening the growth of organic farming and the independent small-scale organic farmer is feeling the heat. Currently the Farm Bill funds the National Organic Program which provides for organic product standards, data collection, crop insurance, organic certification, organic research and assistance for farmers transitioning to organic. We are left wondering how the budget cuts will affect the future of organic agriculture.
A new report by the Organic Farming Research Foundation cites the overwhelming economic benefits of organic farming over those of conventional farming. Maureen Wilmot, executive director of the nonprofit organization, says the report is a long-anticipated review of the American scientific literature concerning organic farming in the United States. Studies compiled in the report show that the organic industry has grown from $3.6 billion in 1997 to $29 billion in 2010.  Speaking to the strength of the organic food movement is the fact that federal assistance has only been in place for the last four of those 13 years.
Some interest groups are concerned that budget cuts will endanger the organic food supply and that organic food prices will increase.  Whatever the outcome of the Farm Bill, and despite the impact that may be felt, we must remember that there is an organic revolution under way. Our world has seen the effects of processed foods and industrial farming on our health and our environment, and we are not willing to let those negative impacts continue.
Ensure the continuing strength of the organic revolution by getting involved. Sustainable agriculture needs your support. Educate yourself, and learn more about the Farm Bill budget cuts to organic agriculture. Make your voice heard, and support organic farming.