Valentine's Day – the celebration of love. Ahhhhh! Every year, this holiday inspires creatives all over the world to create beautiful and personal artwork to show their loved ones just what they mean to them. Well, we love good design, so we'd like to ere are some Valentine's Day designs to inspire you.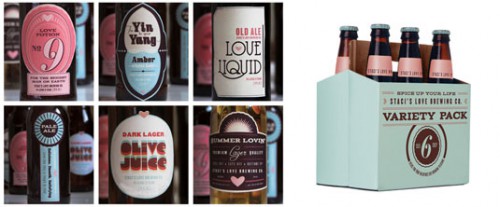 If love potion was the bottled, beer kind we think it would look a little bit like this! Created by designer Staci Paul as a Valentine's Day present for her boyfriend, she developed different label designs for each beer to represent its flavors and overall taste.

"It Valentine's day soon and even graphic designers, type geeks and web designers deserve special cards for the geek they love," explains New York based designer Joanna Behar. You can see more of her hilarious take on geeky Valentine's Day over on Behance.
Freelance designer David Goh created this beautiful Valentine's print. This one, titled The Greatest Thing, is just one of a series of illustration he created to celebrate the holiday of love. This romantic design is one that will look good on your wall all year round.
Many people cement their love for someone with a tattoo. But if you're not to keen (or sure) on the idea of forever, this brilliant temporary Lovebot design from Tattly makes a great gesture. Designed by Julia Rothman, the pack of two means you can both wear one. Awwww!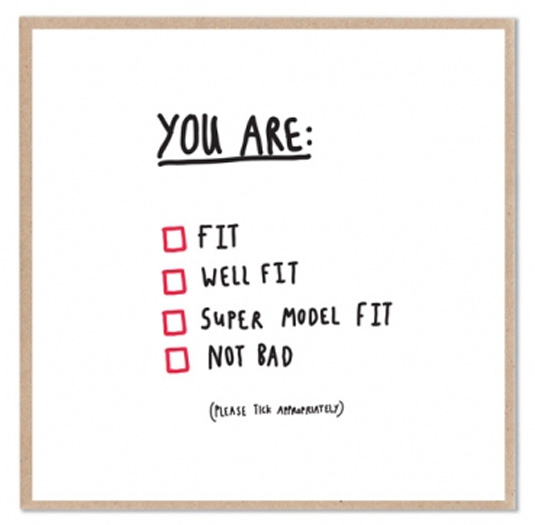 The series of Valentines cards by Lazy Oaf are perfect for people with a great sense of humor. This is just one of alternate designs to the many 'I Love You' cards on offer every 14th Feb. Probably best not to tick the 'Not bad' box though, that might be pushing it a bit!
Jewelery is a popular present on Valentine's Day. But this is a necklace with a difference. This <3 ASCII heart design, which in online lingo represents a heart shape, is aimed at the internet-savvy. The sterling silver necklace was created by designer Becky Stern with love and lasers in New York.
The perfect Valentines gifts for a type lover. These limited edition blocks of maple are another creation by the guys at House Industries, the idea being for couples to buy both their initials, linked by a love heart in between. But they'd also make cool bookends if things don't work out…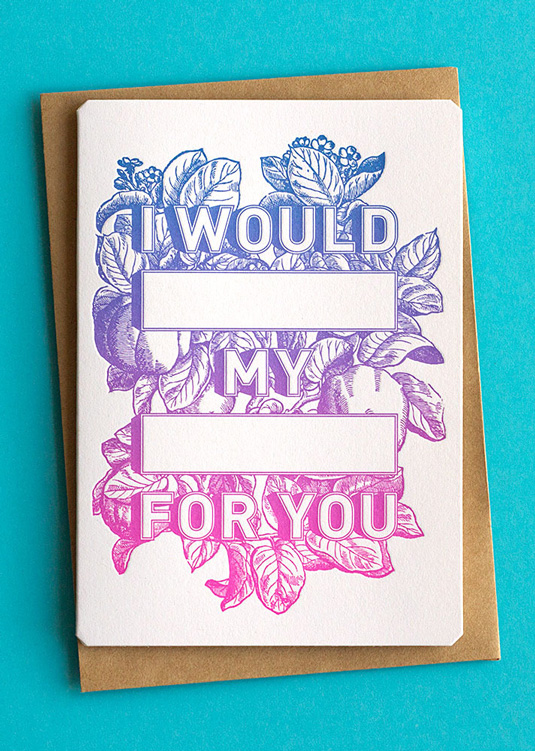 This fill-in-the-blanks card design was created by real-life couple and talented designers Jesse Mallon and Peter Borg. The duo have developed a whole series of Blank Collection letterpress cards. There are four other equally as beautiful designs to choose from, and, as you fill them in yourself, you can be as personal as you want!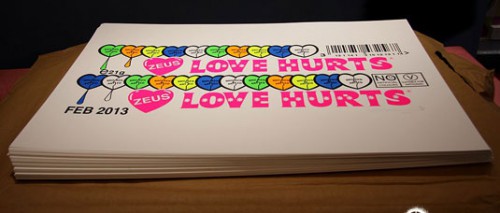 If Valentine's Day is about anything, it's about those cute little Love Heart sweets. The artist Zeus has used them for the inspiration for these gorgeous streetprints to promote his 'Sweet Art' show at London's Graffik Gallery.