In celebration of Earth Day (Monday, April 23), here at Foerstel, we decided to give you some ideas this week to reduce your carbon footprint in your regular lives. Members of our team are taking on a little extra something to remember that every small contribution can make the world a bit greener.
Linda: For me, it's not what I'm doing this week, but ongoing…
• Compost
• Recycle (duh)
• We pretty much walk or ride our bikes all the time on the weekend to run errands or go downtown for dinner/drinks
• We are part of a community garden – some friends have a BIG garden area in their backyard and there's a group of us that work the ground and grow pretty much all our veggies for the summer
• I took out all the grass in the backyard a few years ago to help save on water during the summer
• I have a 200 gallon rain barrel
• In nicer weather, I ride my bike to work almost everyday. In fact, my car hardly moves all summer long!
• We always take our own bags to the grocery store (there's such cute ones now!)
• My girlfriends and I do a clothes swap two times a year – spring and fall. It's a great way to "recycle" gently worn clothes and get a new wardrobe at no cost!
Janell:
My Earth Day Countdown:
• Monday ~ use less paper day ~ use both sides for copying
• Tuesday ~ save energy day – turn thermostat down
• Wednesday ~ no toxins day – mop floors with toxin-free cleaner
• Thursday ~ conserve water day – plumber will fix drippy faucet in bathroom
• Friday ~ conserve energy day ~ use cold water for laundry
• Saturday ~ reduce waste day ~ take all recyclables to waste management center
• Sunday ~ support sustainability day ~ fix entirely organic dinner
• Monday (Earth Day) ~ renew my commitment to being greener today and everyday
Kim:
I recycle at home and at work. At home I also have a compost pile. I use reusable bags for groceries.
Jeremy:
I started planting my garden this week. I always only buy organic produce and meats and I try to get everything as local as possible. It is just a better way to live!

Megan:
In addition to my ongoing recycling and organic foods, this week I'm trying my hand at growing celery indoors and making a conscious effort to walk or bike more places. Boise is such a pedestrian friendly community, plus we have a lot of sun!!
Marie:
• On the big scale–we are working out a plan to paint our house this summer and planning to use VOC paint.
• Consolidating trips around town–fewer and farther between
• Acting as chief recycle police at my home (nothing like digging through the trash!)
Laura:
We are building a garden and compost bin this week to be more Earth friendly!
Claudia:
This year me and my two children are building a vegetable garden using organic soil and organic seeds!

Tom:
It's really just part of our lifestyle so we don't even think about it for the most part: recycling and composting (of course) eating and drinking organic and local as much as possible including what we can raise in our garden that the deer don't eat, thoughtful energy use, contribute to the organizations that are working to keep the planet (and all the critters on it) healthy. But as a special spring Earth Day 2013 project we  are planting two trees, and just finished the installation of a fire break at our house using a drought-tolerant low-maintenance grass that also helps with erosion and noxious weed control.
Mark:
To conserve water, I am not showering all week.
But seriously, I am riding my bike everywhere now, even in the morning when it is cold and dark out, but not really because of Earth Week. But you can say that is the reason. Other than that, just the normal stuff we do around the house – turn off lights, don't leave water running when brushing, recycle the recyclables from the trash.

Office:
We've begun planting of our outdoor vegetable garden at the office. We're using organic soil and organic seeds! We'll keep you posted on the progress as we make our way through the growing season!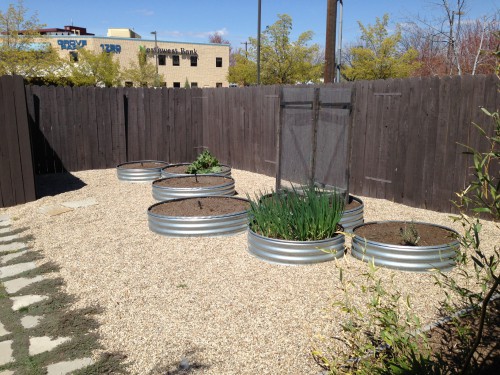 Are you taking on a green challenge? What do you plan to do in spirit of Earth Day/Week? Share with us on Twitter or Facebook!