We are living in times when Photoshop is capable of practically anything, but this time it has nothing to do with these images! Zhangye Danxia Landform in China is just one of those places that are hard to believe really exist. Located in Gansu Province, a naturally formed landscape astonishes its visitors with the burst of colors – its streaks of yellow, orange and red to emerald, green and blue make it hard to believe it's all real. The vast area of intensely colored valleys, waterfalls and natural pillars looks surreal in the pictures, seemingly more of a impressionistic painting than a photograph.
Formed from red-colored sandstones and conglomerates, Danxia landform is a unique example of petrographic geomorphology. The name actually refers to various different landscapes in southeast and southwest China that formed due to unique natural conditions such as water flow fissures, erosion, oxidization and tectonic plate movements. The formation process of Zhangye geopark took over 24 million years, dating back to the Cretaceous age.
Today the Danxia landform is a huge tourist attraction, with six of its landscapes inscribed onto the UNESCO World Heritage Site list in 2010. If you plan on visiting it, hope for the rain, as the vibrant hills glow even brighter after rainfall!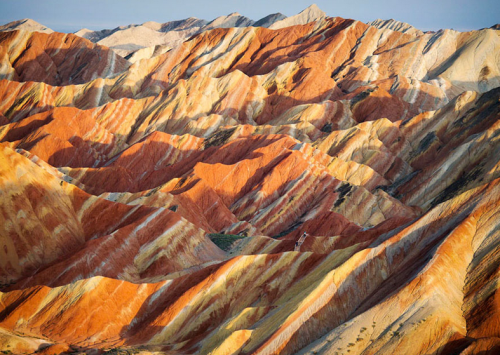 [via Bored Panda]