Artist Rogan Brown creates intricate sculptural forms reminiscent of microorganisms, plant life, and topographical charts by deftly cutting patterns in layer after layer of paper. A single work can take upward of five months to complete, and just like the organic forms he seeks to emulate the piece evolves as he works without a preconceived direction or plan. Via his artist statement:
I want to communicate my fascination with the immense complexity and intricacy of natural forms and this is why the process behind my work is so important. Each sculpture is hugely time consuming and labor-intensive and this work is an essential element not only in the construction but also in the meaning of each piece. The finished artifact is really only the ghostly fossilized vestige of this slow, long process of realization. I have chosen paper as a medium because it captures perfectly that mixture of delicacy and durability that for me characterizes the natural world.
You can see much more of Brown's work in higher resolution over in his portfolio, blog, and several original works and prints are currently available at Saatchi Online.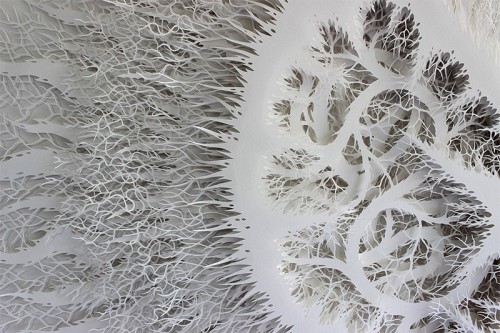 [via Colossal]