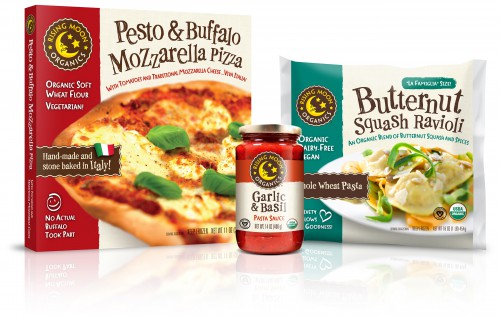 …and that something would be a new brand identity and package design!
We had so much fun working on this project – all of the Rising Moon products are organic, vegetarian and really delicious. From pizza to pasta to sauce, the product line was originally developed by a young couple in Eugene, Oregon who debuted their products at the Oregon State Fair and delivered to customers on the bicycles.
As you can see, the previous package design (below) reflected the funky, handmade and "era-specific" vibe of the founders and location.
Our job was to retain the whimsical, fun and handmade soul of the brand while updating and refreshing the graphic elements to create a broader appeal and more contemporary image.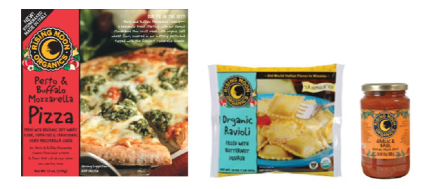 Previous Packaging
About Rising Moon (from their website):
It all started over 20 years ago, when Rising Moon Organics® delivered (on bikes!) homemade organic ravioli to stores in Portland, Oregon. Since then, we've introduced pizzas, pasta sauces, entrée dishes, and other vegetarian offerings to our dedicated followers.
When you don't have time to whip up a meal, we've got you covered. Always quick, delicious, organic, and vegetarian, that's Rising Moon Organics®.
Sit back and enjoy!