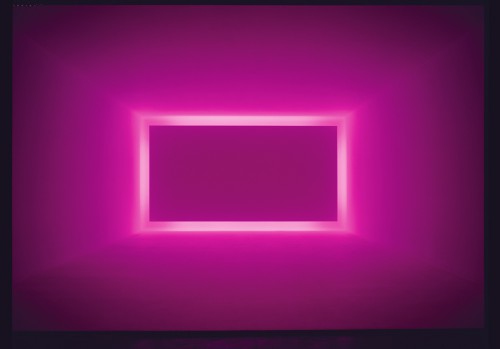 When we think of the visual arts, it is usually a painting or a work of sculpture. But in the 1960s, a group of southern California artists broke out of the traditional framework of art expression to create a new movement in contemporary art. Artists like Robert Irwin, Doug Wheeler and James Turrell focused on the experience of light and space in their work. Tom recently visited the LA County Museum of Art and experienced the latest exhibit – James Turrell: A Retrospective – a nearly hallucinatory play of light and color. He reported "I was completely drawn in and mesmerized. It can be a very moving and emotional experience when you allow yourself the time to really participate and become immersed in his work."
The LACMA exhibition is one of three now celebrating the art of Mr. Turrell, 70, a leading member of the groundbreaking Light and Space generation. According to the museum's website:
[The exhibit] explores nearly fifty years in the career of James Turrell (b. 1943, Los Angeles), a key artist in the Southern California Light and Space movement of the 1960s and 70s. The exhibition includes early geometric light projections, prints and drawings, installations exploring sensory deprivation and seemingly unmodulated fields of colored light, and recent two-dimensional work with holograms. One section is devoted to the Turrell masterwork in process, Roden Crater, a site-specific intervention into the landscape just outside Flagstaff, Arizona, presented through models, plans, photographs, and films.
This exhibition allows only a few people in a gallery at a time, and advises as much as ten minutes with one work in order for your eyes to fully perceive what is happening. Expect to spend 60-90 minutes in the show.