Product design student Ari Jónsson has combined red algae powder with water to create a biodegradable bottle.
Jónsson – who studies at the Iceland Academy of the Arts – exhibited the project during this year's Reykjavik design festival DesignMarch from 10 to 13 March 2016.
After reading about the amount of waste plastic produced every day, the designer felt an "urgent" need to develop a replacement material.


"I read that 50 per cent of plastic is used once and then thrown away so I feel there is an urgent need to find ways to replace some of the unreal amount of plastic we make, use and throw away each day," Jónsson told Dezeen. "Why are we using materials that take hundreds of years to break down in nature to drink from once and then throw away?"

He began studying the strengths and weaknesses of different materials to determine what could be suitable for use as a water bottle. Eventually he came across a powdered form of agar, a substance made from algae.
When agar powder is added to water, it forms a jelly-like material. After experimenting to find the right proportions, Jónsson slowly heated the substance before pouring it into a bottle-shaped mould that had been kept in the freezer.
He then rotated the mould while submerged in a bucket of ice-cold water, until the liquid inside has taken the shape of the bottle.
It was then placed in a refrigerator for a few minutes before the agar bottle was extracted from the mould.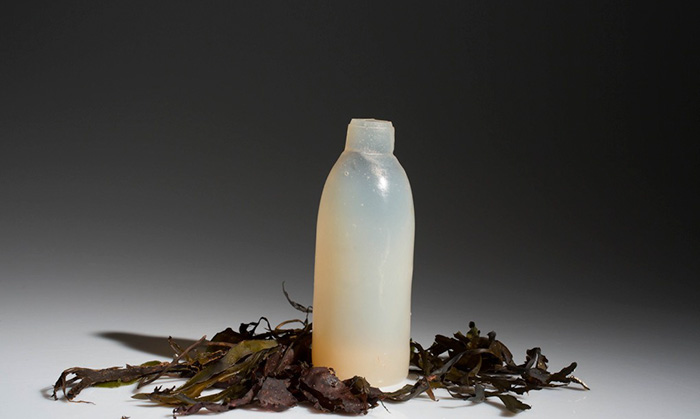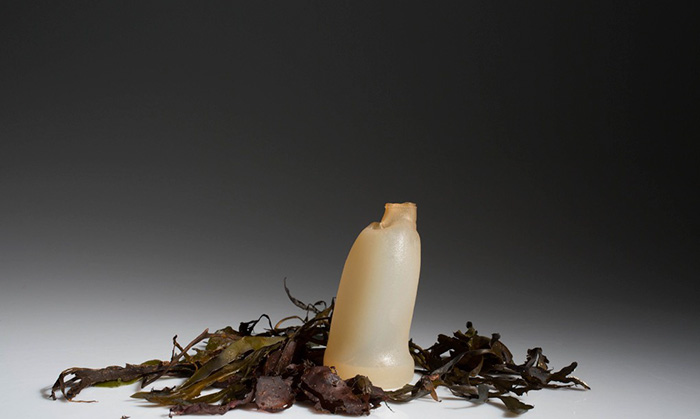 As long as the bottle is full of water, it will keep its shape, but as soon as it is empty – it will begin to decompose.
"If it fails, or if the bottom is too thin or it has a hole in it, I can just reheat it and pour it into the mould again," said Jónsson.
As the bottle is made from 100 per cent natural materials, the water stored inside it is safe to drink – although Jónsson noted that after a while it may extract a small amount of taste from the bottle.
He even suggested that if the user likes the taste, they should bite the bottle itself when you have finished drinking.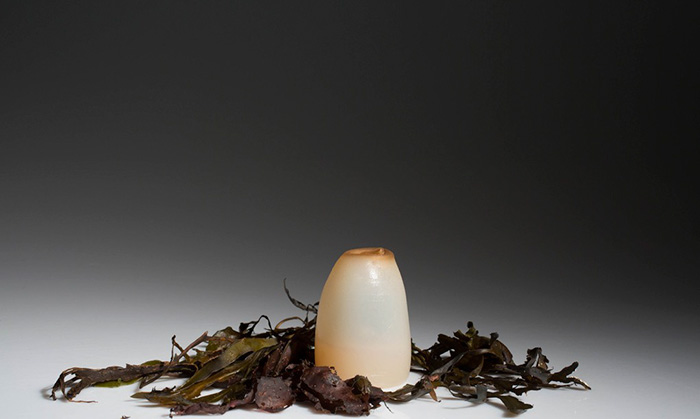 Designers are increasingly experimenting with seaweed and other forms of algae. Seaweed has recently been used as architectural cladding and to create lampshades, while algae provided a base material to form a yarn for weaving rugs and a dye for coloring textiles. Algae has even been implemented as an energy source to power buildings.
Jónsson's algae bottles were presented at the Drifting Cycles student exhibition, which was held during DesignMarch 2016 inside a remote lighthouse.
Other projects on show at the three-day event included a range of homeware using a concept borrowed from the pen-and-paper game Picture Consequences, and a stacking dining set comprising items that all use feldspar in their production.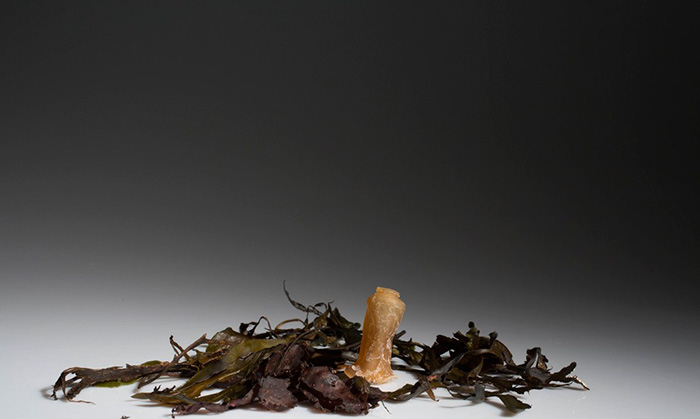 [via dezeen]